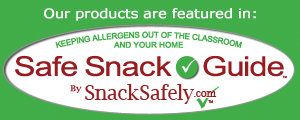 Here at The Greater Knead, our products are all free-from the eight common food allergens as mandated by the FDA. Those allergens are wheat, dairy, peanuts, tree nuts, egg, soy, fish and shellfish. All of our products are manufactured in our allergen-friendly facility, and we rigorously test to ensure safety.
We wanted to make sure that our free-from products remain flavor full! We use a proprietary blend of rice flours, sorghum flour and tapioca as the base to our bagels, along with using extra virgin olive oil for moisture and taste. To make sure that our products remain vegan, we use evaporated cane juice and brown sugar as our sweetners. Psyllium husk adds fiber to our bagels and yeast helps them to rise.
Transparency is important to us. When it comes to food allergies you should always be provided with all the information available. In order to support that, we wanted to explain more regarding the ingredients that may be present in our facility. Please note that while we do not use, hold, or store the top 8 allergens or any of their derivatives (wheat, soy, dairy, egg, peanut, tree nuts, fish, and shellfish) in our facility, we do run ingredients for other products or testing that may cause a concern.
The following ingredients are not considered top common allergens in the US but we understand that an allergy could still exist and we want to make it easier for you to keep your family safe. We are always working on creating fun new products and as a result we may bring in ingredients to test our new ideas. We are also dedicated to helping other brands in the industry bring their products to the market by manufacturing for them, as a result we may bring in ingredients used to make their products. Some of these ingredients are ran on the same lines and others are not, so please feel free to call with any questions or concerns- 267.522.8523:
Canola Oil
Legumes – Chick peas
Modified (not genetically) Starch
Potato Starch
Oats/Oat Flour
Corn/ Corn Starch
Sunflower Seeds
Pumpkin Seeds
Agave
Natural Enzymes
Buckwheat
Apples/Applesauce
Algal Flour
Quinoa
Flax/Chia Seeds